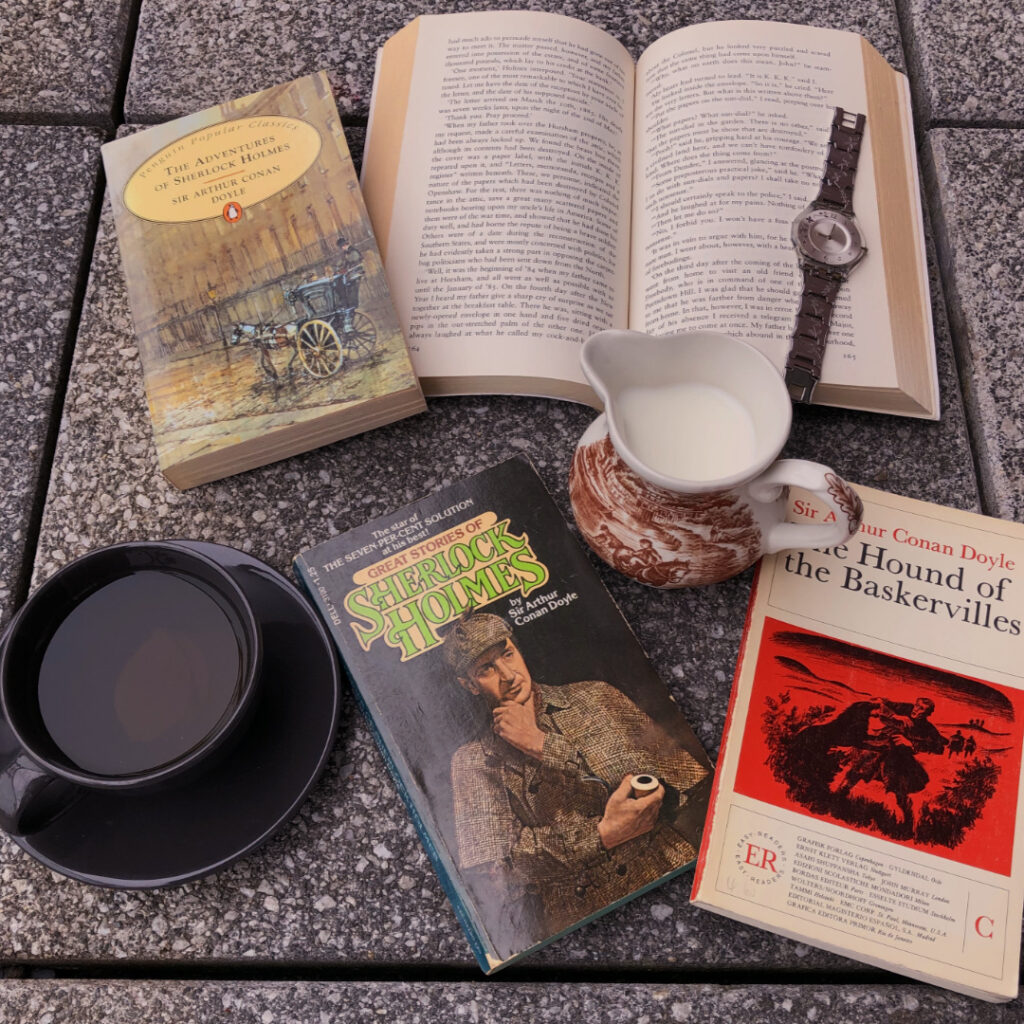 Arthur Ignatius Conan Doyle was born on May 22nd, 1859 in Edinburgh (Scotland) in an Irish-Roman Catholic family. His father, Charles Altamont Doyle, was an artist although he could not support his family with his art. Thus, he got a job as an assistant in the Office of Works. Arthur's mother was Mary Doyle (née Foley), a well educated woman who was passionate about books, and a great story-teller, like her son.
Conan Doyle's childhood was not very cheerful, as the family had little money and his father's behaviour was complicated due to his excesses with alcohol and his unpredictable actions.
However, some rich members of his family offered to pay for his education. He went to study first to Hodder school for one year, and later to a Jesuit boarding school in England. Nevertheless, those years were terrible for Arthur, due to the hard conditions at the boarding school and the strict discipline of the Jesuits.
Nonetheless, it is during those school years that Conan Doyle discovered that he was quite good at telling stories. He even edited a school paper called "Wasp".
In 1876 Arthur finished school and came back home. At that time, his father had to be admitted to an asylum: his mental problems were getting worse and worse.
That same year, he decided to become a doctor. He enrolled at the University of Edinburgh, where he met future fellow writers like Robert Louis Stevenson.
At the University, his teacher Dr. Joseph Bell, is said to have been the inspiration for the character of "Sherlock Holmes".
THE STAR OF CONAN DOYLE AS A WRITER
Conan Doyle started writing short stories during the first years of his studies. This resulted in the publication in the "Chambers Journal" of "The Mystery of Sasassa Valley", with reminiscences of Allan Poe's stories. Later on, he started working at the magazine "Chamber's Journal". He continued writing stories like "The American Tale", published in the London Society.
In 1880 Arthur enrolled on a whaling boat to the Arctic to work as the ship's surgeon. He enjoyed it quite a lot. This experience resulted in the writing of his story called "Captain of the Pole Star".
After returning to his medical studies, he got the Bachelor of Medicine in 1881. He opened his own practice in Portsmouth, while continuing to pursue a career as a writer. He published several stories in various newspapers.
In 1885 Conan Doyle married the sister of one of his patients, Louisa Hawkins. One year later, he started writing his novella which would make him famous, "A Study in Scarlet", published in Beeton's Christmas Annual in 1887. In it, the public would meet for the first time the characters of Sherlock Holmes (the personification of Victorian values and ideas) and Doctor Watson.
However, Arthur considered his Sherlock Holmes books quite "commercial". He was annoyed at the fact that his more serious books (like his historical novels, poems and plays) did to have the same success as his detective stories.
THE PHENOMENON OF "SHERLOCK HOLMES"
In 1889 Joseph Marshall Stoddart, editor of the magazine "Lippincott's Monthly Magazine" based in Philadelphia, wanted to issue a British edition of that magazine. So, and due to Conan Doyle's great popularity in the United States, he invited him to join the periodical. The result was the publication in 1890, both in England and the States, of Arthur's second Sherlock Holmes's story "The Sign of Four".
After some years had passed, Conan Doyle's agent Mr. A.P. Watt made a deal with "The Strand Magazine" to publish all the stories about Sherlock Holmes. Furthermore, in 1891, thanks to the big success of his Sherlock Holmes books, Arthur decided to stop being a doctor and dedicate all his efforts to write.
In 1892 all the stories about Sherlock Holmes were compiled and published as a book with the name of "The Adventures of Sherlock Holmes".
Against everyone's opinion, in 1893 Conan Doyle decided to end his Sherlock Holmes' books. He published the last installment, "The Final Problem". In this way, he could fully commit to his other, less "commercial" books.
THE BEGINNING OF THE PARANORMAL
During those years, his wife's health started to deteriorate until she was diagnosed with tuberculosis. As a result of her illness, having to take care of her, his father's death in 1893 and writing constantly, Arthur fell into a depression. This made him turn to the world of the occultism and the paranormal.
Therefore, in 1894 he went to the United States to give some lectures about his knowledge on spiritualism. The tour was a great success. After he came back home, his first "Brigadier Gerard" story was published in "The Strand Magazine", which instantly became a success. 1896 also saw the light of another one of these novels, "The Tragedy of the Korosko".
During the Boer War, Conan Doyle worked one more time as a doctor in a field hospital in Africa in 1900. For his services in the war, King Edward VII knighted him in 1902. After returning to London, he tried his luck at politics, running for a seat in Edinburgh, although he lost. Back home in London, he continued writing.
In 1901, Arthur published the first episode of "The Hound of the Baskervilles" in "The Strand Magazine". Two years later, he published "The Return of Sherlock Holmes" in the same Magazine.
CONAN DOYLE – NEW WIFE AND NEW SERIES
Unfortunately, her wife Louisa died in 1906. This tragic loss caused Arthur another episode of depression. However, in 1907, and after nine years of secret relationship, Conan Doyle married Jean Elizabeth Leckie. With her and his two children with Louisa, Mary and Kingsley, Arthur moved to a house in Sussex.
With Jean Leckie, he had two more sons, Denis in 1909 and Adrian in 1910, and a daughter, Jean, in 1912.
During those years, Conan Doyle started to write plays. The majority of them were unsuccessful, except "The Speckled Band", which brought him money and success.
Afterwards, he introduced to the public the character of Professor Challenger, the antithesis of Sherlock Holmes. The first book of this new series was "The Lost World", which was a big success. To this one four more novels followed , all of them a great example of what will be known later as "Science-Fiction". All those novels remind us of Jules Vernes' stories.
In 1914, Conan Doyle published the second full length Sherlock Holmes novel called "The Valley of Fear" once again in "The Strand Magazine". Later that same year came the third novel, "His Last Bow".
He continued being interested in spiritualism and the occult (for which he was publicly mocked). He even published the book "The Coming of the Fairies" in 1922. As he needed money, Arthur published more novels about Professor Challenger: "The Land of Mist", "The Disintegration Machine" and "When the World Screamed".
In 1928, Conan Doyle compiled the last twelve stories about Sherlock Holmes in "The Casebook of Sherlock Holmes".
In 1930, after having being diagnosed with Angina Pectoris, Conan Doyle died of heart failure on July, 7th.
CONCLUSION
To sump up, Arthur Conan Doyle is a key figure in the literature in English language. Although he was (and is) mainly known for his detective stories, he also wrote plays, a great amount of letters, essays, poetry, and historical books. Furthermore, he was an excellent storyteller, a doctor, and a prosecutor against miscarriages of justice. In other words, he was a man of many abilities.
---
"We balance probabilities and choose the most likely. It is the scientific use of the imagination"

"The Hound of the Baskervilles" 1901, Chapter 4