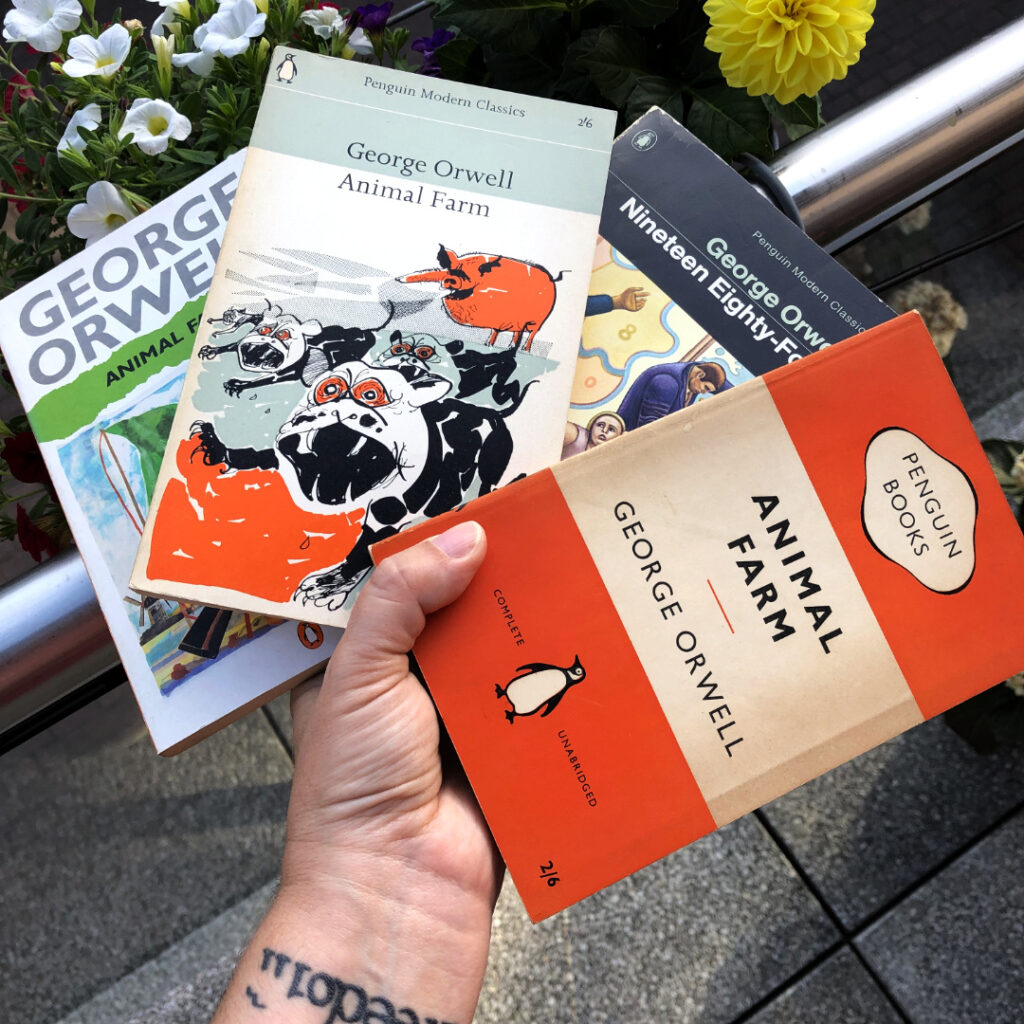 George Orwell (born Eric Arthur Blair) was born on June 25, 1903 in Motihari, Bihar (India) during the time of the British colonial rule. His father, Richard Walmesley Blair, was a British official in the Indian Civil Service. His mother, Ida Mabel Limouzin, was of French origin. He had an older sister called Marjorie and a younger one called Avril. 
In 1911, after he had returned to England with his mother and sisters, Orwell went to the preparatory boarding school of St Cyprian in Eastbourne. He was not very happy during those years and sought refuge in books, reading among others, Kipling and H.G. Wells.
His first published poem was "Awake Young Men of England" printed in a local newspaper at the age of eleven years old. Later on, he attended Wellington College, and from 1917 to 1921, Eton College. There, he started publishing his first writings at their gazette.
In 1922 after finishing his studies, he decided to join the Indian Imperial Police Force in Burma (India). However, five years later he abandoned the city and in 1928, he resigned from the Imperial Police, as he was getting weary of the British Imperialism. He then had to take different jobs to make ends meet.
ERIC ARTHUR BLAIR VS. GEORGE ORWELL
During the following years, he travelled the roads of London and Paris. This "pilgrimage" served him to compile material for the publication of "Down and Out in Paris and London" in 1933. The book was published under the pseudonym of "George Orwell".
He took the surname of his pseudonym from the River Orwell which runs through East Anglia. The name "George" refers to the name of the King ruling at that time in Great Britain (George V). With the years, this pseudonym became so attached to him that only the closest family members and friends knew his real name.
In 1934, Orwell published "Burmese Days" as well as two autobiographical summaries, "Shooting an Elephant" and "A Hanging", where he talked about his experience as a police officer in Burma.
His next novels were "A Clergyman's Daughter" (1935) and "Keep the Aspidistra Flying" (1936). This last book was partly based on Orwell's experiences as a bookseller in the bookshop where he met his future wife, Eileen O'Shaughnessy. Their marriage was quite "open". Later on, they adopted a son, Richard Horatio, who was mostly raised by Orwell and his sister Avril.
Together with Eileen, Orwell travelled to Spain in 1936 to fight for the Republican cause in the Spanish Civil War. Unfortunately, Orwell had to leave the country after he was badly injured in the throat in Teruel.
In 1937 Orwell published his first socialist book called "The Road to Wigan Pier". The following year, he published "Homage to Catalonia" where he narrated his experience in the Spanish Civil War and about his fear of communism. The year 1939 saw the publication of "Coming Up for Air".
TUBERCULOSIS AND THE BBC
His long struggle with different illnesses culminated in his diagnosis of tuberculosis in 1938. He then had to spend some months in a Sanatorium to try to get better. Unfortunately, he never completely recovered.
In 1941 Orwell took a job at the BBC's Eastern Service as a producer (although he resigned in 1943) and as a literary editor for the left-wing newspaper "The Tribune". Additionally, he worked as a war correspondent for the Observer in various countries. Meanwhile, he was very prolific as a journalist writing reviews, criticism, articles, etc.
Critics valued George Orwell's literary essays very highly. In 1946 Orwell published "Politics and the English Language" in "Horizon", a literary magazine. Critics consider this essay as one the most important works on style.
"Animal Farm" (which was banned in the then Soviet Union until the late 1980s) was published in 1945. Critics and readers consider the book as one of his masterpieces, together with "Nineteen Eighty-Four" (1949). Both books made George Orwell prosperous and quite famous.
HIS LAST YEARS
His wife Eileen had died of a heart attack in 1945 so Orwell married Sonia Brownell in October 1949. Unfortunately, George Orwell died of tuberculosis at the age of only 46, on January 21, 1950 in London. He had been fighting against this illness for his whole life. He was buried in All Saints, Sutton Courtenay (Berkshire).
The year 1953 saw the publication of his posthumous autobiography "Such, Such Were the Joys". In it, Orwell recalled the years he spent as a student at St Cyprian's school.
George Orwell was strongly opinionated. He dealt in his books with some of the big issues of his time, including totalitarianism, democratic socialism, imperialism, fascism, and communism. His writing years were not many but he managed in such a short period of time to create two of the greatest masterpieces of the 20th century.
---
"All animals are equal, but some animals are more equal than others."

"Animal Farm", 1945