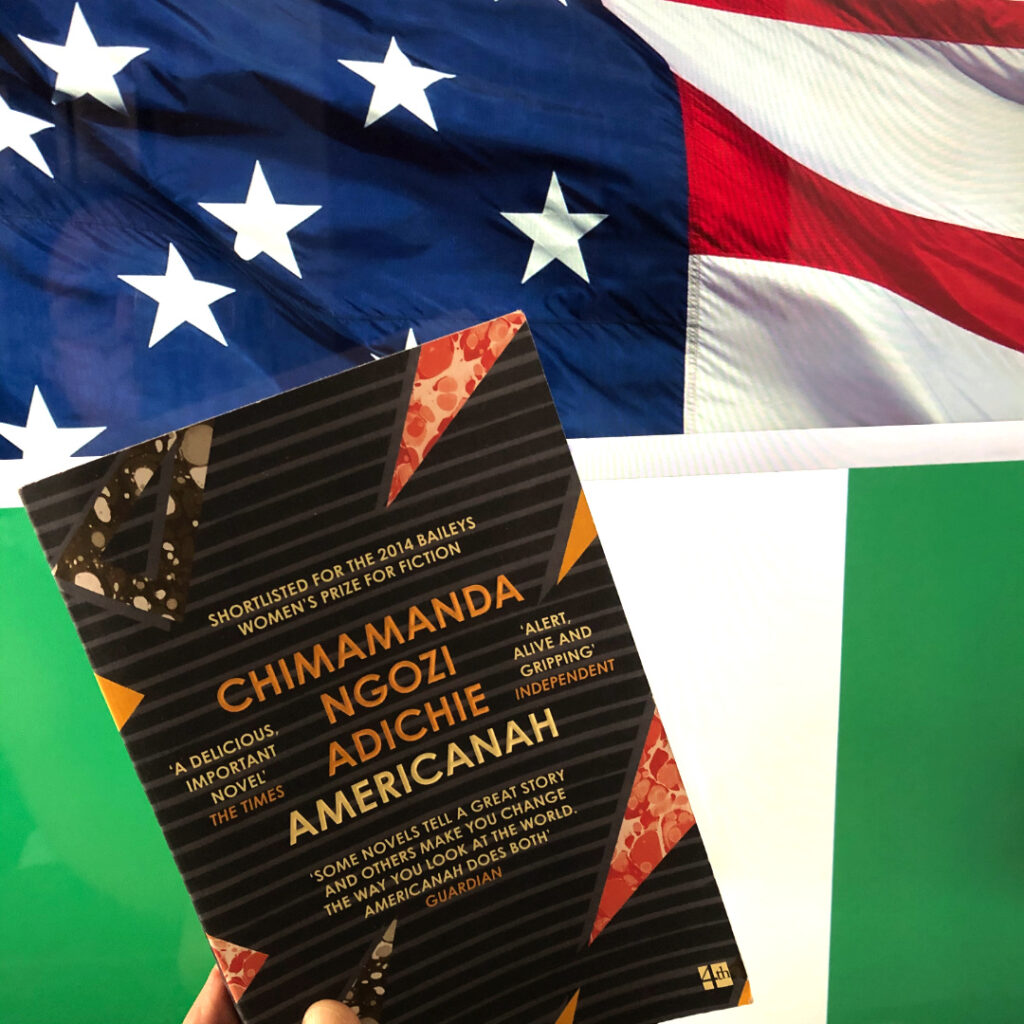 Year of Publication: 2013
Publisher: Fourth Estate
ISBN: 9780007356348
Strong Point: How the author tells us the past stories of both protagonists Ifemelu and Obinze as well as their present situation. She does that in a very elegant and satisfactory way without being complicated to follow.
Weak Point: The protagonist, Ifemelu, can be at times a little bit annoying, as she seems sometimes a know-it-all person, that looks at people with a little bit of superiority.
Books on Tour Rating: ⭐️⭐️⭐️⭐️ (4/5)
Goodreads Rating: ⭐️⭐️⭐️⭐️ (4.31/5)
---
WHAT IT SAYS IN THE BLURB
Ifemelu and Obinze are young and in love when they depart military-ruled Nigeria. In America Ifemelu has to grapple with what it means to be black, despite her academic success. Obinze plunges into a dangerous, undocumented life in London. Fifteen years later, when they reunite in a newly democratic Nigeria and reignite their passion – for each other and for their homeland – they face the hardest decision of their lives.
REVIEW OF "AMERICANAH"
Americanah. That is the name that the female protagonist of the book, Ifemelu, receives after having lived fifteen years in America, the land of the free and the home of the brave.
The book starts with her decision to come back to Nigeria, to Lagos, (where Ifemelu was born) after her time in America. She leaves her boyfriend, Blaine (A Black American), closes her very successful blog, and comes back to her home country.
At the same time, we also learn about the present life of Obinze, Ifemelu's boyfriend before she travelled to America.
Then, after constant flashbacks of both her life and Obinze's life since Ifemelu left Lagos, we learn about what has happened in their lives for the past 15 years, both good and (very) bad. Both are immigrants: Ifemelu in the States and Obinze in Great Britain, but undocumented.
Furthermore, we learn about being an African Black in America as opposed to as a Black American, which I find very interesting. There are big differences; as Ifemelu herself said you don't feel like a Black person, until you are in America.
NEW TYPE OF IMMIGRATION
The story of the two protagonists, although it is one of immigration, it has a special characteristic. Both of them are immigrants (Ifemelu goes to America, Obinze to Great Britain) but they both do not leave their country because of poverty.
Both of them live in families which are considered middle-class, who have enough money to live. Their parents had a job and they could afford sending their children to school in their hometown in order to have a better future.
However, and because of the political situation in Nigeria, they both decide to migrate because of the lack of opportunities in Lagos.
This situation makes their immigration stories somehow different. They both have to endure very hard experiences with the particularity that they both (deep inside) still think about coming back to Nigeria. There, they won't have to suffer all those humiliations and risks.
This circumstance differentiate them from any other immigrants whose coming back to their home country is simply not an option.
IFEMELU'S BLOG
Ngozi includes in the book some posts of Ifemelu's blog "Raceteenth or Various Observations About American Blacks (Those Formerly Known as Negroes) by a Non-American Black" . These (some of them wryly comic) complement perfectly Ifemelu's stories and experiences as an African Black woman in the States.
I find these posts particularly interesting as they speak first hand about being an African Black in the United States, and not in an academic way. They are based on her own experiences and on incidents and conversations with people she encounters.
FINAL THOUGHTS ABOUT "AMERICANAH"
In the blurb of the book, we read that the two protagonists restart a love story which started 15 years before. However, this book is more than that.
In it, we read about racism, discrimination, immigration, hatred, injustices, mafia, ethnicity…
Through the story of the protagonists and their families and friends we experience the subtleties of race in different scenarios: the States, the UK and Nigeria. We learn what it means to be Black in America and the UK as opposed to being a Black person in Nigeria. Because it is not the same. Every country, every idiosyncrasy is different. And so is race.
I really recommend the book. Chimamanda's style is very polished, very clear. Her prose is very beautiful and rich. Her characters are very well defined.
It has been a pleasure to read "Americanah". Plus it has given me more insight about the every day difficulties of people of colour.
I cannot wait to read more books by her.
---